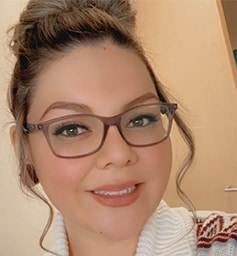 Fanny has been with IntelliSource for nearly 4 years. She has held many roles in our Northern Nevada market and is currently onsite with one of our manufacturing customers. Fanny was recognized as a Q1 hero because of her dedication and willingness to jump in and support large ramps of essential workers during the first weeks of COVID-19. She was excited and had a great attitude every day.
Congratulations Fanny and thank you for all you do for IntelliSource! Fanny spent some time to let us know a little more about what he brings to the team!
In your own words, what do you bring to IntelliSource? I bring accountability, reliability, adaptability, integrity, passion and commitment to IntelliSource.
What do you feel your biggest professional strength is? My biggest professional strength is open communication with our employees, customers, and colleagues. I listen to their input and put it into action – by doing so, it makes an impact both personally and professionally.
Outside of work, what interesting fact should people know about you? My motivation to learn new things and improve my abilities daily outside of work benefits growth in my personal life, employee engagement and ultimately the improvement of IntelliSource.
What is your favorite part about working at IntelliSource? Where do I begin with IntelliSource…. My favorite part would be working alongside amazing, genuine people, as well as the opportunity for growth and to better myself as a person.
At IntelliSource, we always strive for E3 or being Enjoyably Engaged in the Experience… what does that mean to you? It means working in an environment with friendly and motivated co-workers that help us achieve our goal in being successful as a company. Being involved as a unit helps our workers, customers, and colleagues have an enjoyable experience within our company therefore making it a comfortable friendly environment for all of us who are involved.