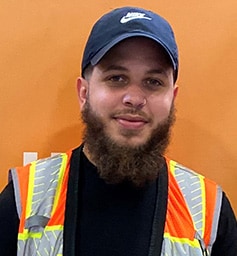 Darin has been with IntelliSource for almost 3 years in our New Jersey network. He was recognized as a Q1 2020 hero for his great attitude, dedication to his job, strong work ethic and engagement efforts with all employees.
Congratulations Darin and thank you for all you do for IntelliSource! Darin spent some time to let us know a little more about what he brings to the team!
In your own words, what do you bring to IntelliSource? I bring energy, fun, honesty, consistency, leadership, integrity and quality and dedication to IntelliSource.
What do you feel your biggest professional strength is? My biggest professional strength is employee relations. I make it my goal, daily, to speak to our employees about goals and coaching them to a higher level of success personally and professionally.
Outside of work, what interesting fact should people know about you? Back in March 2016 my Grandmother was diagnosed with Breast Cancer. I needed to find the best way to raise money to help out with her operation. In October 2016, I started my clothing line "Crooked Crown Label." Click HERE to check it out! Selling these clothes provided me with the opportunity to use the profits for my Grandmothers operation and for Breast Cancer Awareness Foundation. I am still the proud owner of this successful clothing line and will continue to follow my dreams in this endeavor.
What is your favorite part about working at IntelliSource? My favorite part about working at IntelliSource is that it just feels like one big family. You hear about these company's that lack engagement and have a huge disconnect from corporate to the locations, but not with us. Everyone has always made me feel welcomed and comfortable. A company that is for the people and stands by it.
At IntelliSource, we always strive for E3 or being Enjoyably Engaged in the Experience… what does that mean to you? I believe that E3 is the key to success. Being able to have fun at work, being engaged and helping create moments and experiences with your staff makes the difference. It helps build rapport and helps build and maintain morale.