Our employee spotlight this month features the fantastic Zonia James!
Zonia started with IntelliSource in 2018 with our team in New Jersey. Since then, she has helped us across several of our other sites and has worked as a great leader in every role she has. Her consistently positive and inspired outlook when working through different locations and jobs has helped create success wherever she goes.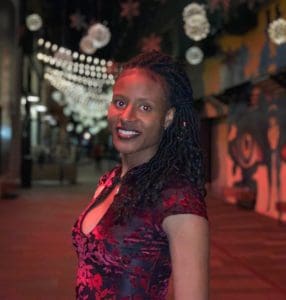 I asked our leaders about what they have seen when working with Zonia. Senior Vice President of Operations at IntelliSource, Mark Silvius, talked about the great success that Zonia has had since starting in late 2018.
"Though I've only worked with Zonia for a little over a year, her professionalism and flexibility throughout every project is impressive. No matter where she is, she is making a significant difference across several of our customers and our divisions throughout our organization. Her passion and ability to work as a great teammate are enormous strengths that we, as a company, are lucky to have. I am looking forward to our next partnering opportunity and cannot wait to see Zonia continue to grow." 
I also asked Zonia a few questions to find out a little more about who she is and how her time at IntelliSource has helped her grow.
What interesting tidbits do you want your coworkers to know about you professionally?
I'm a solution based individual. If a problem is presented, my brain immediately processes possible solutions. If I struggle with a solution, I switch gear to what resources I can contact to reach a solution. I'm also a big proponent of continuous learning. Whether it be personal or professional, I value continuously developing and improving not only my skills and knowledge but also any of my teams.
What do you feel your biggest professional strength is?
I believe my biggest professional strength is the ability to adapt and think on my feet. I've found that in my experience, it's been effective to be capable of adapting to situations and individuals and make changes accordingly and efficiently. 
What interesting fact do you want your coworkers to know about you outside of work?
I LOVE animals! People call me Dr. Dolittle! Actually, no one calls me that. But that's how much I love animals! Basically, any animal could easily distract me (a gift and a curse). I'll be the person going to the white windowless van that has free puppies spray-painted on the side. 
What hobby did you have when you were younger that most people wouldn't guess? 
When I was younger, I was a little bit artsy. I used to love to draw and duplicate cartoon characters, or my favorite flower, a rose. I also enjoyed taking pictures, and that has carried over into my adult years. Lastly, throughout my entire adolescent years, I enjoyed singing. I was in the chorus from elementary school until I graduated high school. This is by no means a declaration on whether or not I can sing well, but I've always enjoyed doing it. My motto, "Sing like no one is listening." 
What is your favorite part about working at IntelliSource?
I've had the opportunity to meet and learn from so many amazing people. From the candidates that I've recruited to the different teams or that I've worked with here at Intellisource, I can say since day one of starting with Intellisource; It's never been a dull moment. I am looking forward to many more exciting experiences! 
Thanks for everything you do for IntelliSource! We are so fortunate to have you as part of our team and we are excited to grow with you in the future!